[box type="info" size="small" style="rounded"]Recipie courtesy: Antonio Valenzuela
Difficulty: Easy
Prep. Time: 5 min
Yield: 2 dozens[/box]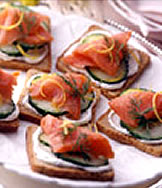 24 slices thin white bread
4 ounces Ginger-Cilantro Lime Butter, recipe follows
8 ounces thinly sliced smoked salmon
Spread all of the bread slices generously with the ginger butter. Place slices of smoked salmon in an even layer on half of the bread slices. Top with remaining bread slices. Using a 2-inch flower-shaped cookie cutter, cut out the tea sandwiches. Remove the top slice of bread from each flower. Using a 3/4 to 7/8-inch round biscuit cutter, cut a circle from the center of each, discard the circle. Replace the slice, butter-side down, on the flower.
GINGER-CILANTRO LIME BUTTER:
8 tablespoons (1 stick) unsalted butter, at room temperature
2 ounces (1/4 cup) cream cheese, at room temperature
1 tablespoon grated fresh ginger
1 tablespoon fresh lime juice
3 tablespoons chopped fresh cilantro
1 teaspoon kosher salt
Place butter, cream cheese, ginger, lime juice, cilantro and salt in the bowl of a food processor. Pulse just until ingredients are combined, about 30 seconds.
Transfer mixture to a sheet of parchment or waxed paper. Roll into a 1 1/2-inch wide log. Refrigerate until ready to use. Yield: 1 (7-ounce 10 by 1 1/2-inch) log
[fblike style="standard" float="left" showfaces="false" width="450″ verb="like" font="arial"]