[box type="info" size="small" style="rounded"]Recipie courtesy: Mario Batali
Difficulty: Easy
Prep. Time: 30 min
Cook Time: 30 min
Yield: 4 servings[/box]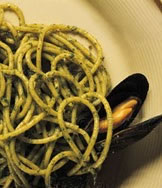 3 1/4 pounds mussels, well cleaned
1/4 cup extra-virgin olive oil
1 medium red onion
3 cloves garlic, thinly sliced
1 tablespoon crushed hot chili pepper or pepperoncino
Salt and freshly ground black pepper
1 pound dried spaghetti
1/2 bunch fresh parsley, finely chopped
Place the cleaned mussels, still in their shells, in a large saucepan over high heat. Cover and let cook until the mussels open up and release their juices, about 3 minutes. Drain, reserving all of the strained mussel liquid.
Cut the onion in half through the root and slice each half into half moons, each 1/8 of an inch thick. In a 2-quart saucepan, heat the olive oil over medium heat. Add the garlic, hot chili pepper and the onions, cooking until soft and golden brown, about 8 to10 minutes.
While the garlic, hot pepper and onions cook, remove the mussels from their shells and discard the shells. You can also begin to prepare the spaghetti by bringing a large pot filled with 6 quarts of water to a boil. When the water boils, add 2 tablespoons of salt and your spaghetti. Cook the spaghetti according to the package directions, until it is tender but still al dente. Drain the pasta before adding to the mussel mixture. Add the mussels to the saucepan, and season to taste with salt and pepper. Add the reserved mussel juices. Raise the heat to high and allow the mussel mixture to boil for almost 10 to 15 minutes. Remove the pan from the heat, add the chopped parsley, a pinch of hot chili pepper and a drizzle of extra-virgin olive oil. Toss the mussel sauce with the cooked spaghetti.
[fblike style="standard" float="left" showfaces="false" width="450″ verb="like" font="arial"]