[box type="info" size="small" style="rounded"]Recipie courtesy: Emeril Lagasse, 2003
Difficulty: Easy
Prep. Time: 10 min
Cook Time: 15 min
Yield: 4 servings[/box]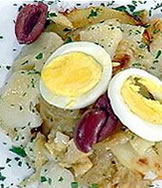 2 tablespoons olive oil
1/2 cup finely chopped yellow onions
2 tablespoons minced green onions
2 teaspoons minced garlic
2 cups fine dry breadcrumbs
2 tablespoons minced parsley
1 teaspoon finely grated lemon peel
1/2 teaspoon salt
1/4 teaspoon freshly ground black pepper
Pinch cayenne
4 (1-pound) whiting (aka silver hake), whole, cleaned, boned and head off
Essence, recipe follows
1/2 bunch parsley leaves, well rinsed
1/4 cup dry white wine or vermouth
3 tablespoons unsalted butter, cut into thin slivers
2 tablespoons capers, drained
Chopped parsley leaves, garnish
Lemon slices, garnish
Steamed broccoli, accompaniment
Minced red bell peppers, garnish
Preheat the oven to 400 degrees F.
In a large skillet, heat the oil over medium-high heat. Add the onions, green onions, and garlic and cook, stirring, until soft and fragrant, 2 to 3 minutes. Add the bread crumbs and cook until golden, 2 to 3 minutes. Add the parsley, lemon peel, salt, pepper, and cayenne, stir, and remove from the heat. Let cool. (Note: If the mixture seems too dry, add slightly more oil to the mixture, 1/2 teaspoon at a time.)
Lay the whiting on a work surface and divide the stuffing among the fish. (If necessary, secure the openings with toothpicks.) Lightly season with Essence. Place a layer of parsley on the bottom of a baking dish and lay the fish on top. Pour the wine around the fish, dot the tops with the butter and sprinkle with the capers. Cover with aluminum foil and bake until the fish is firm and opaque and the stuffing is warm, 30 to 35 minutes.
Remove from the oven and arrange the fish on 4 plates. Drizzle with the pan juices, and garnish with additional chopped parsley and lemon slices. Serve with steamed buttered broccoli on the side, garnished with minced red bell peppers.
[fblike style="standard" float="left" showfaces="false" width="450″ verb="like" font="arial"]